Welcome to The Homeschool Sisterhood!
The year-round support and guidance you need to succeed in your homeschool journey.


A membership for moms who desire a restful homeschool through a God-centered living education.
Homeschool overwhelming is a real feeling. There is too much to do, too little time, and an overload of information to absorb out there.
Time is short. Time is precious. Yet, we are lacking time to do the most important things in our lives like being fully present with our kids, connecting with our husbands, taking care of ourselves, or the most important of all, connecting with God through reading The Word and prayer.
Listen, I love social media, and you probably are here because some one on social media told you about The Homeschool Sisterhood, right? But as much as I love social media, I realized that I was spending way too much time on it and not with my family, not with God either.
The reality is that social media suck us in and there are too many distractions, too many posts to comment, too many notifications to check, videos to watch... too much of too many things that can be good things but yet, too many and we feel like we've just spent hours going no where and accomplish no thing.
Can I get a witness?
Plus, the overload of homeschool information, resources, and curricula. Oy!
We get all these amazing free homeschool resources and advice yet, we have no clue how to implement it into your homeschool, worse yet, we download it, print it, get excited about using it for a week or two, then we lack consistency and there goes one more thing we didn't follow through with.
Am I the only one?
Perhaps you are like me and get too excited about buying amazing books and curricula only to sit on the shelves and never get to use them. Guilty, right?
Homeschooling is not for the faint of heart. Let me tell you. We either feel like we're overdoing or not doing enough.
We lack confidence and we keep questioning ourselves:
"Am I good enough to teach my kids?"
"Are my kids learning enough?"
And let's not forget to talk about how lonely this homeschool journey can feel at sometimes and the criticism we encounter that make us feel insecure.
Do you wish you had more support and encouragement along the way? Do you feel the same way, too?
The overwhelm, the lack of time, the lack of consistency, lack of confidence, lack of support... and the list goes on and on.
How about the lack of joy?
When I burnout completely 4 years ago, all my joy of homeschooling was gone! I was so tired all the time and I felt like a big failure. I have no strength to carry on.
I wanted to homeschool my kids so badly but I had no idea what I was doing and no one to guide me.
Sister, I know your struggle! Oh, I know it well, from inside out!
The struggle is real and you are not alone!

The Homeschool Sisterhood is a place away from the buzz and distractions of social media, surrounded by like minded homeschool moms who want to do their best to give their children a custom-made education, a Godly character, and a loving home.

A sisterhood where we can grow together, be encouraged and accountable, focusing on your homeschool goals with confidence, joy, and peace!
The Homeschool Sisterhood is for you if....
You desire to turn your stressful homeschool into a restful homeschool.
You want to go from stressed to blessed, from confused to confident, and from overwhelmed to rested.
You're ready to ditch busy, find clarity, and homeschool with confidence, peace, and joy.
You need someone to guide you step-by-step in this new season of homeschooling and walk beside you.
Is that you???
Welcome to The Homeschool Sisterhood!
You just found your tribe.
The Homeschool Sisterhood is a membership program completely off social media, carefully designed to help you follow a homeschool success path without distractions and with an amazing support from other homeschool moms.
Our membership program is not design to be one more thing on your plate, but to actually help you to remove all unnecessary weight you've been carrying on your shoulders.
The Homeschool Sisterhood shouldn't take more than an hour per week from your precious time.
Our goal is to help you will spend less time on social media, have more clarity and laser-focus, so you can spend a lot more time with your family!
Course Curriculum
Homeschool Toolbox
Available in days
days after you enroll
HABIT TRAINING RESOURCES
Available in days
days after you enroll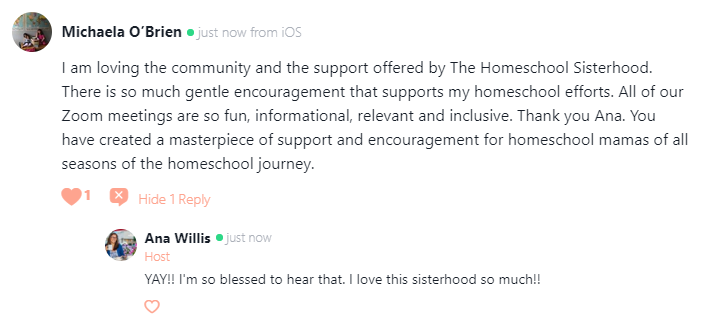 So how does The Homeschool Sisterhood works?
Every month we will focus on a specific topic and you will have access to:
Habit Training
Masterclasses
Homeschool Experts Interviews
Book Clubs for Moms and Kids
Family workshops in a variety of subjects from writing to arts, cooking, foreign languages, etc.
You will also have access to special discounts for all future resources and events.
Did I mentioned bonuses and surprises?? Yes, that too! The quicker you sign up, the more bonuses you will receive. And you might or might not (wink wink) get a few surprises from me along out sisterhood journey.
The Homeschool Sisterhood will give you the content, the community, and the accountability you need to homeschool successfully from a place of rest and confidence.
All outside social media, so you can redeem your precious time!
Monthly Focus on Habit Training
Because homeschooling is discipleship and parenting also, our program has a monthly focus on habit training and Godly character.
Don't you wish your kids were more obedient? Did their chores without being told? Wouldn't that make life and homeschooling much easier for you?
That's all part of habit training and we will be working together in training our children in important habits like:
Obedience
attention
perfect execution
order
self control
thankfulness
observation
memorization & more!!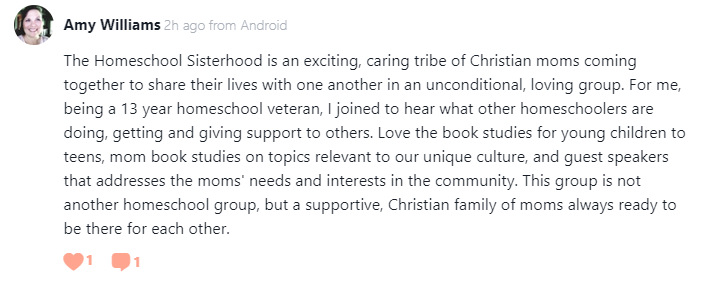 The 7 Cs of Homeschooling™
Month-by-month we will be also navigating and checking on the 7 Cs of Homeschooling™ together:
CLARITY (clear goals/plans)
CONTENT (right resources/tools for YOUR family! Each one is unique with different needs)
CONSISTENCY (This is a BIG key for success)
CONTENTMENT - (rather than wishing things were different, be content and trust God with the rest)
COMMUNITY (real support & encouragement without comparison or judgment)
CHRIST-CENTERED (another HUGE ONE!)
CELEBRATION (progress, not perfection)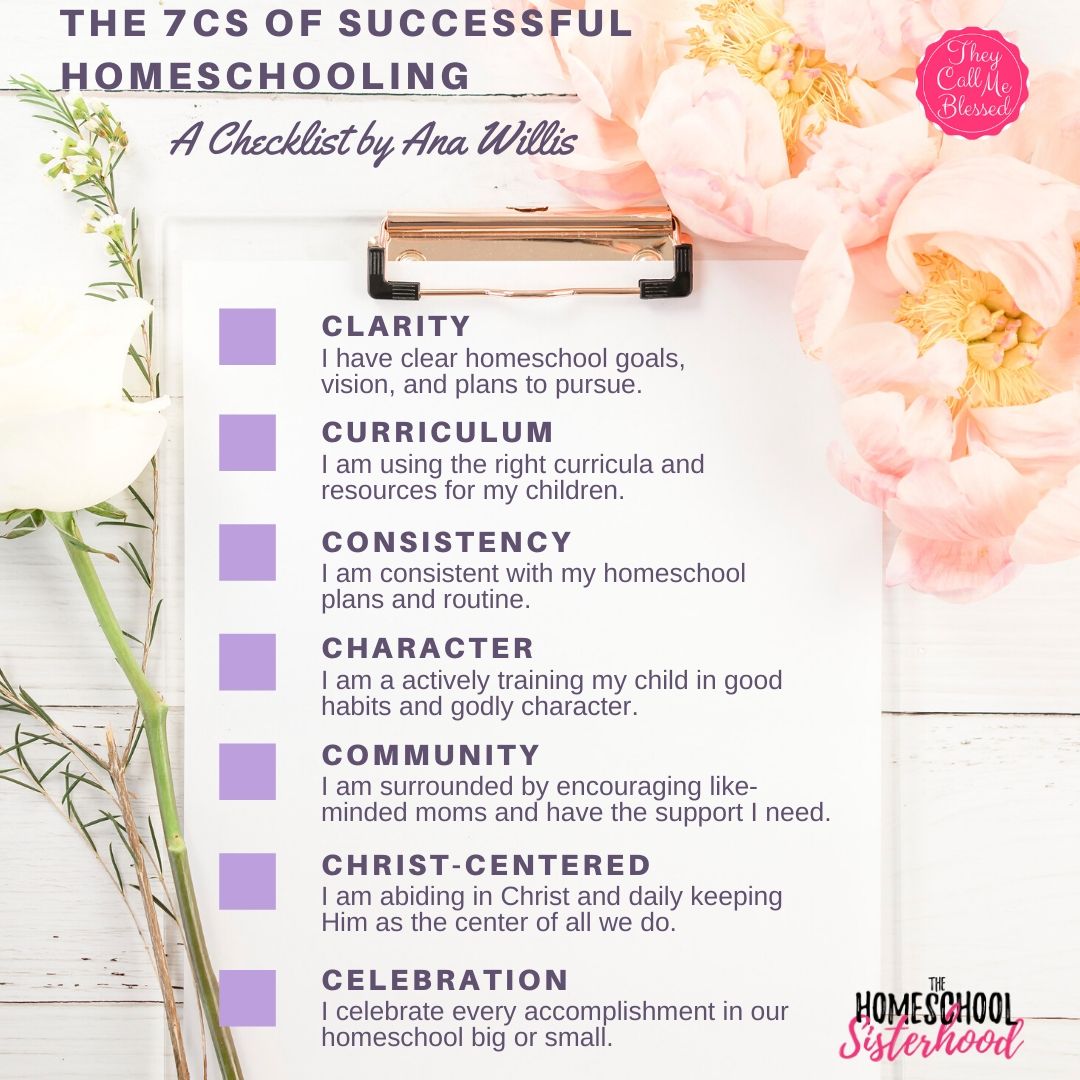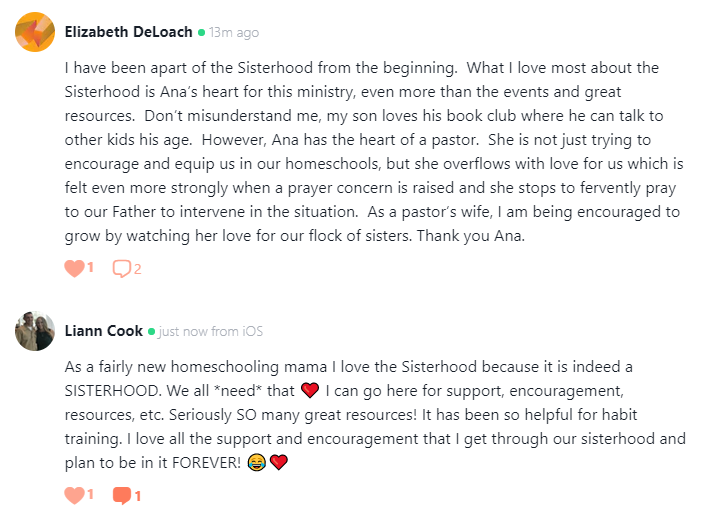 What else will you have inside The Homeschool Sisterhood?
Content
Community
Mentorship
Encouragement
Inspiration
Accountability
Most importantly, The Homeschool Sisterhood will help you to experience a restful homeschool through a God-centered living education.
It will remove the confusion and give you confidence.
It will remove the doubts and give you clarity.
It will remove your overwhelm and give you peace.
And the best part!
All in one place.
All off social media.
No distraction.
Designed with a proven success path to help you create a successful, restful, and joyful homeschool.
Your Instructor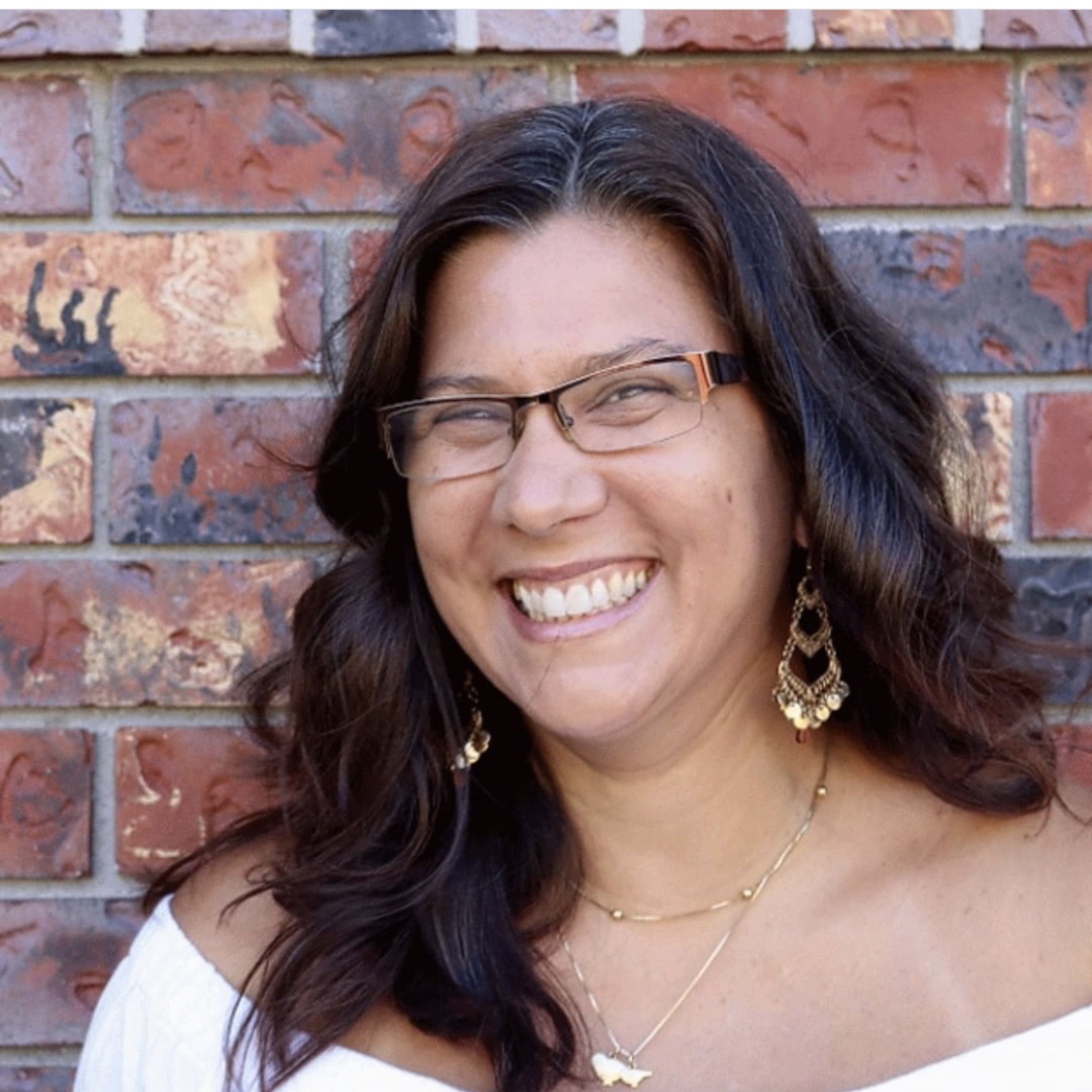 Ana is a wife and homeschool mom of 3 turned into homeschool blogger. She is also, a women's pastor, entrepreneur, and a passionate Bible and Hebrew teacher.
She loves helping homeschool moms to find joy and fulfillment in their homeschool calling.
Her goal is to help moms go from stressed to blessed, nurturing a restful homeschooling through a living education, and living a beyond blessed life.
Ana studied Theology at New Orleans Baptist Theological Seminary and has a double Bachelor's degree in Biblical and Jewish Studies from Israel College of the Bible.
She is the founder of Hebrew for Homeschoolers, a course that teaches homeschool families to read, write and speak Hebrew in only 4 to 10 weeks.
For the past 5 years, Ana has been mentoring thousands of homeschool moms through her blog They Call Me Blessed, her mentorship program The Homeschool Sisterhood, and her online events such as the Charlotte Mason Inspired Online Conference and For Such A Time As This Summit.
Ana loves bringing God's people together and above all, she loves bringing people closer to God!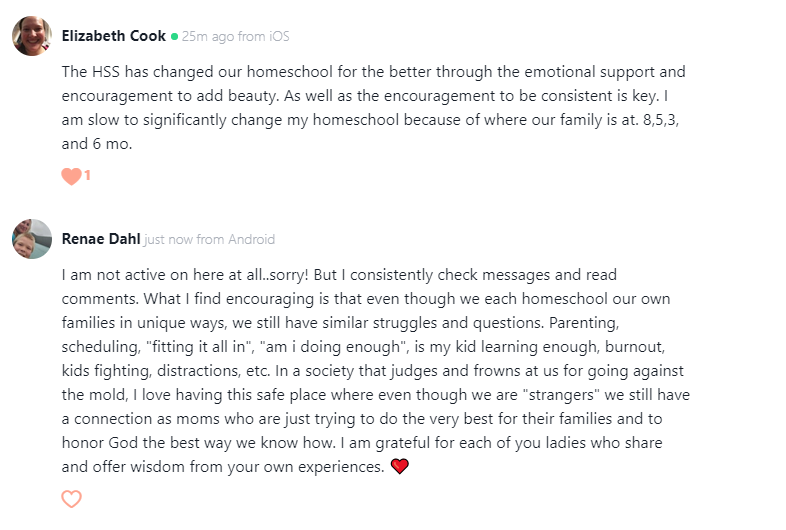 Frequently Asked Questions
What if I am unhappy with the membership?
We would never want you to be unhappy! If you are unsatisfied with The Homeschool Sisterhood, you can cancel it anytime.
More FAQs: Here are the most common ones I've been answering...
"What does The Homeschool Sisterhood offers that I can't find anywhere for free?"

The Homeschool Sisterhood offers you a clear and proven step-by-step homeschool success path to follow each month that will take you to that restful homeschool place you always dreamed of, without any distractions from social media, overload of information, or overwhelm.
There are lots of great free information out there including at They Call Me Blessed, but... Do you really have the time to hop from one blog to another or from one Facebook group to another gathering what you need in order to put together a clear plan to follow? And even if you do have lots of free time to do that, do you have the motivation, the consistency, and the will power it takes to implement it on your own?
If your answer is "no", then join The Homeschool Sisterhood! It is perfect for you!
Otherwise, you're doing amazing on your own, don't bother joining anything. Keep moving forward and doing your best for your kids' education!
"Who is The Homeschool Sisterhood for?"
The Homeschool Sisterhood is for you if:
You are a brand new homeschool mom who needs guidance, directions, support, and encouragement to get it right from the beginning.
You've been homeschooling for a while but still feel confused and need clarity finding what fits best your family.
You feel like you have been overdoing or not doing enough in your homeschool and you're feeling unmotivated, exhausted, and overwhelmed.
You are entering a new season of homeschooling and need someone to guide you even if you've been doing this for many years. Listen, from preschool to high school, every homeschooling season has its challenges and our homeschool mentors are ready to help you face them in The Homeschool Sisterhood.
You've been spending more time on social media than you should, following all the great homeschool blogs, participating in several free homeschool Facebook groups, and your homeschool is still one big hot mess! You lack time, even though you spend time reading lots of great posts about homeschooling, you lack focus because you're distracted on social media, and you lack consistency because... well, it's hard to be consistent when we lack focus and motivation - Can I get a witness here?
Is that you??? Can you associate with any of the descriptions above?
If you do, you are not alone and you just found what you need!
Don't waste your time, don't procrastinate if you need help and know it! The doors close at midnight tonight and your help is just a click away.
"Why join The Homeschool Sisterhood when I don't have time for one more thing?"
Our membership program is not designed to be ONE MORE THING on your plate, but to actually help you remove all unnecessary extras and the stress you've been carrying on your shoulders.
The Homeschool Sisterhood shouldn't take more than an hour per week from your precious time.
Our goal is to help you will spend less time on social media, so you can have more clarity and be more focused on what really matters, thus spending more time with your family!
If you have good time management skills, use social media minimally in a way that doesn't take away focus from your family, and you are doing really well with homeschooling, then you don't need The Homeschool Sisterhood at all!
"What will I have in The Homeschool Sisterhood if I join?"
Clarity! First of all, having a clear path to follow is a game changer and removes a lot of overwhelm.
You will also have access to:
New Monthly Content
Accountability Calls
Supportive Community
Consistent Mentorship
Infinite Encouragement
Weekly Inspiration
Every 1st of the month, you will receive an email laying out all the details and schedule for your monthly resources.
These resources are:
A Habit Training Focus of The Month as a printable resource to get you started, a habit improvement journal and a tracking checklist.
A Live Masterclass (just like you've experienced in our Homeschool Bootcamps this week!)
A Homeschool Expert Interview & Live Q&A
The Mom's Book Club & The Kids' Book Club
The Family Workshop of The Month (always with a different focus)