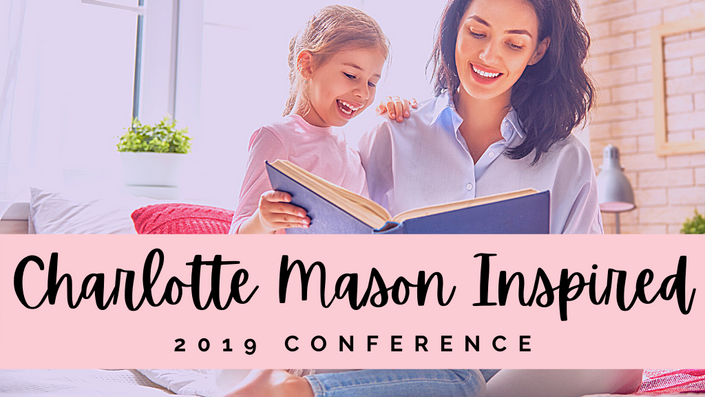 2019 Charlotte Mason Online Conference
Create A Restful Homeschool Through a Living Education.
Do you ever wonder if a 19th-century British educator can still influence our homeschool today?
Join us as we learn about the Charlotte Mason philosophy of education from 23 veteran homeschool parents who have been successfully using and enthusiastically sharing about Ms. Mason's educational approach still today.
From the early years and habit training to High School and Shakespeare, come discover and be inspired by a feast of ideas to implement in your homeschool.
Enjoy 23 Speakers and have lifetime access to 25 workshops videos and audios recordings on demand once you hit the buy button!
Ditch Homeschool Overwhelm
& Discover A Restful Homeschool
Featured Speakers
Here's a peek at some of the wonderful ladies you'll be hearing from in this online conference.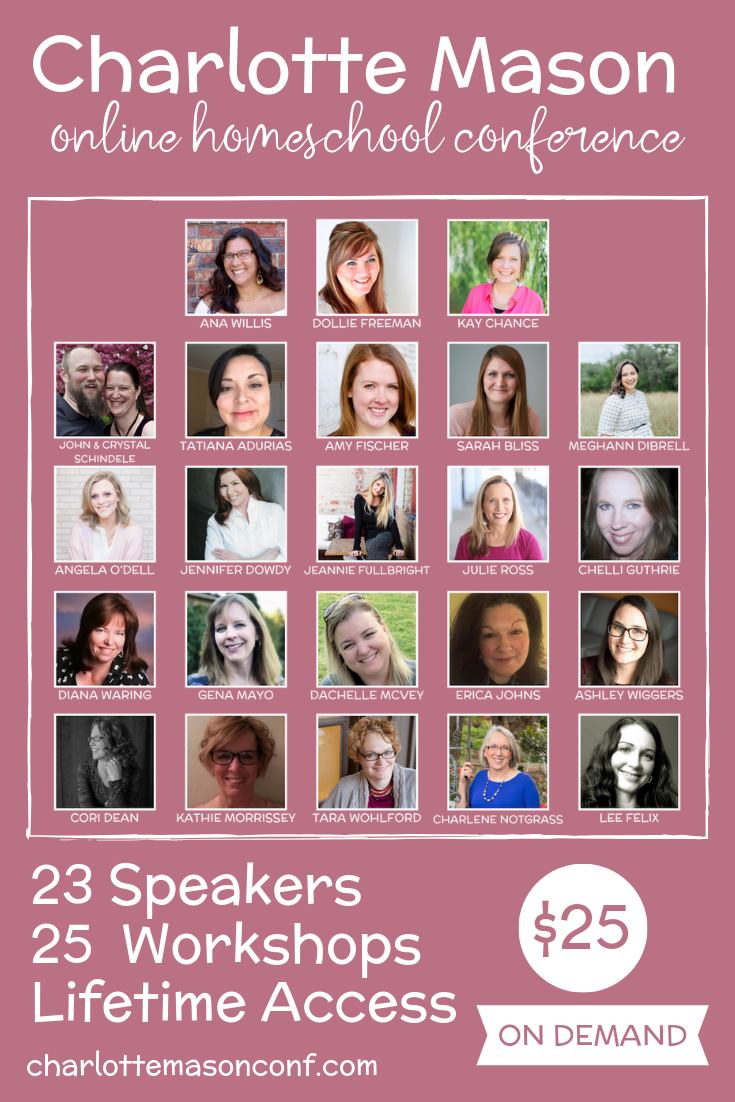 Course Curriculum
Welcome to Our 2019 Charlotte Mason Online Conference!
Available in days
days after you enroll
BONUS: Homeschool Math
Available in days
days after you enroll
Frequently Asked Questions
When does the conference start and finish?
The course starts now and never ends! It is a completely self-paced online course - you decide when you start and when you finish.
How long do I have access to the conference?
How does lifetime access sound? After enrolling, you have unlimited access to this conference for as long as you like - across any and all devices you own.
More About Our Feature Speakers
ANA WILLIS - THEY CALL ME BLESSED

Ana is a homeschool mom of 3 turned into homeschool blogger. She is an entrepreneur, online marketing, social media strategist, and passionate Bible and Hebrew teacher. She loves helping homeschool moms to find joy in their homeschool, to be more organized, grow in their faith, and even make an income working from home! Her goal is to help moms go from stressed to blessed and live a beyond blessed life. Ana studied Theology at New Orleans Baptist Theological Seminary and has a double Bachelor's degree in Biblical and Jewish Studies. She is the founder of Hebrew for Homeschoolers, a course that teaches homeschool families to read, write and speak Hebrew in 4 to 10 weeks. LEARN MORE
DOLLIE FREEMAN - THE CHARLOTTE MASON WAY
Dollie Freeman has homeschooled her four children for 20 years using the Charlotte Mason way to teach her children from preschool to high school. Using this way of homeschooling, she has successfully raised self-educating children. With her family's personal experience, she has created a planning framework that takes core elements of this philosophy to identify four roles of teachers that puts ownership of education in the hands of children. This planning framework not only works to raise self-educating children but also saves your years of planning, even if you are brand new to this method of learning. LEARN MORE
KAY CHANCE - HEART-TO-HEART HOMESCHOOLING
Kay Chance is the mom of two homeschool graduates, the author of the Middle School Extensions for the Trail Guide to Learning series, and content editor for Homeschooling Today magazine. She believes even the most overwhelmed, stressed-out homeschooling mom can cultivate the calm, deeply connected life she craves. You'll find her sharing how at Heart-to-Heart Homeschooling. LEARN MORE
CRYSTAL & JOHN SCHINDELE - CHARLOTTE MASON SAYS PODCAST
John and Crystal, parents of five younglings, are still trying to figure out this thing called life. Married for over 10 years, they have a passion for helping families connect and grow in intentional ways. John, an Electrical Engineer by day and a podcast host by night, has been involved in the homeschooling community as either a student, teacher, coach or friend for over 20 years. Crystal grew up as an Army brat and has experienced almost every type of schooling that a person could. Together they host a podcast where they read and discuss Charlotte Mason's writings, starting with Parents and Children, in an attempt to inspire conversation and learning for parents of all ages with kids of all ages. LEARN MORE
TATIANA ADURIAS - THE MUSINGS OF MUM
Tatiana is a follower of Jesus, married to the love of her life, and mum to one boy and five girls. She's a writer, blogger, entrepreneur and self-taught graphic designer Her mission is to inspire and equip moms, to raise children who long to walk with Jesus, by giving them the tools and resources to teach their children to defend their faith in Christ. She blogs about motherhood, home education and organized living at The Musings of Mum.LEARN MORE
AMY FISCHER - AROUND THE THICKET & THINKING LOVE PODCAST
Amy is a homeschooling mom of three boys, living as an American ex-pat in the northwest of England. For five years, she has been reading, learning, and applying the Charlotte Mason philosophy to her parenting, to her early years homeschool, and even herself. She connects the Charlotte Mason philosophy with the Charlotte Mason practicalities at her blog, Around the Thicket. You'll also find her co-hosting the Thinking Love podcast, a show that explores homeschooling, Charlotte Mason, the early years, and more. LEARN MORE
SARA BLISS - HOLISTIC HOMESCHOOLER
Sarah Bliss is the author of Holistic Homeschooler. Happily married to the man of her dreams and together they raise two adorable children As a home educator she believes home education is more than academics. She holds a personal philosophy that homeschooling is holistic and encompasses the whole child-body, mind, heart, spirit. In reference to the spirit, she means the holy spirit, knowing that ones own spirit needs daily nourishment from the word of God. An unabashed Christ follower. She homeschools mainly using a Charlotte Mason Philosophy of Education. She loves nature and spends hours outside on nature walks, the occasional hike, or nature study with her family. LEARN MORE
MEGHANN DIBRELL - ROOTED CHILDHOOD
Meghann is a mom of three little ones, proud lefty, and unexpected country dweller who lives in the Texas Hill Country on 6.5 acres with too many animals to count. Meghann is the creator of Rooted Childhood, a resource to inspire families with young children to create and connect through meaningful, seasonally inspired activities. LEARN MORE
ANGELA O'DELL - MASTER BOOKS
Angela O'Dell is a veteran homeschool mom, who loves to invest in the lives of homeschooling families. She is the author of the America's Story 1-3, The World's Story 1-3, and the Math Lessons for a Living Education series, all of which are published through Master Books. Based upon her foundational belief in a living God for a living education, she has worked to bring a curriculum that will reach deep into the heart of home-educated children and their families. Her goal is to create materials that teach and train hearts and minds to find the answers for our generation in the never changing truth of God and His Word. Angela is a World History Advisor on the board of the International Association of Creation, and an AACC certified Master Level Child Development and Family Biblical Life Coach, with a special focus on adolescence through the teen years. LEARN MORE
JENNIFER DOWDY - CHARLOTTE MASON KINDERGARTEN
Jennifer is a homeschool mom of six children, author at Charlotte Mason Kindergarten, and self-taught graphic designer. Serving alongside her husband in her home and local church. She has spent the last nine years practicing the Charlotte Mason method and observing the truthfulness in it. Nature studies, habit training and lots of living books have filled her days. Charlotte Mason kindergarten was born as an inkling from God. The desire of Jennifer's heart is to see children thrive in cultivated environments at home. Creating our own cultures and raising children that really care. Raised as a preacher's daughter in a home that valued servanthood, she strives to help other moms travel along this narrow path. LEARN MORE
JEANNIE FULBRIGHT - APOLOGIA
Jeannie Fulbright is a veteran homeschool mother, Certified Christian Life Coach, best-selling author, and national speaker. Jeannie earned her Bachelor of Arts at The University of Texas-Austin, and her Master of Fine Arts in Creative Writing at Fairfield University. Jeannie is the author of Apologia's Young Explorer series: Exploring Creation with Astronomy, Botany, Chemistry and Physics, Anatomy and Physiology, Zoology 1, 2 and 3. Jeannie also blogs writes for national magazines and has been speaking at conferences across the United States since 2005. All of Jeannie's four homeschooled children attended or attend the University of Georgia on scholarship, her oldest graduated Magna Cum Laude with a degree in Photojournalism, and now owns her own photography company and works as a freelance editor at CNN. Jeannie's two sons are both Computer Science majors at UGA. Her youngest daughter will join her brothers at UGA this fall, focusing on Engineering. Visit Jeannie's website www.jeanniefulbright.com and sign up for her newsletter to learn about upcoming products and receive encouragement for the homeschool journey. Jeannie can also be found on Pinterest, Facebook, Twitter, and Instagram. LEARN MORE
JULIE H. ROSS - A GENTLE FEAST
Julie H Ross believes that every child needs a feast of living ideas to grow intellectually, emotionally, and spiritually. As a former school teacher, Curriculum Coordinator, and Assistant Director of a Homeschool Academy, Julie Ross has worked with hundreds of students and parents over the past 20 years. She has also been homeschooling her own five children for over a decade. Julie Ross developed the Charlotte Mason curriculum, A Gentle Feast, to provide parents with the tools and resources needed to provide a rich and abundant educational feast full of books, beauty, and Biblical truth. LEARN MORE
CHELLI GUTHRIE - THE PLANTED TREES
Chelli Guthrie is a homeschool mom to three children and wife to "Preacher Man." She blogs at The Planted Trees about Charlotte Mason homeschooling. She has spoken at Christian retreats and various homeschooling venues. She teaches high school level writing and literature classes at a local homeschool co-op, online, and at a local private school. Chelli has also written a year- long homeschool devotional book, Revitalize: Breathing Life and Encouragement into Your Homeschool. LEARN MORE
DIANA WARING - HISTORY REVEALED
Diana Waring is one of the pioneers of homeschooling. For nearly three decades she has been an author and speaker to the international homeschool movement. Diana is the author and publisher of the History Revealed curriculum, the Experience History Through Music series (William T. Anderson authored one of the titles in this series), Beyond Survival: A Guide to Abundant Life Homeschooling, Reaping the Harvest: The Bounty of Abundant Life Homeschooling, and numerous world history and homeschool encouragement audio CDs. She is a video blogger, blogger, columnist for The Homeschool Minute, guest writer at The Old Schoolhouse magazine, curriculum writer, composer, wife, and homeschool mom. LEARN MORE
GENA MAYO - MUSIC IN OUR HOMESCHOOL
Gena Mayo is a homeschooling mom of 8 who has been teaching music in various forms for over 20 years. She has a Bachelors degree in Music Education and a Masters degree in Vocal Pedagogy (teaching voice lessons). It is her desire to help all homeschoolers include music in their homeschools. Learn more at MusicinOurHomeschool.com and her online course site Learn.MusicinOurHomeschool.com. LEARN MORE
DACHELLE MCVEY - HIDE THE CHOCOLATE
Dachelle is a working homeschooling mom of 3 in the South. She is the owner of HideTheChocolate.com, a blog about her adventures in homeschooling and parenting. She is also the author of dozens of online book clubs for kids from preschool to high school at her site Literary Adventures for Kids. You can often find her reading a good book (or even sometimes just an okay book) and enjoying a jar of Nutella — don't judge. LEARN MORE
ERICA JOHNS - ENRICHMENT STUDIES
Erica Johns is a mother of six and has been homeschooling for most of the last 22 years. In her work at EnrichmentStudies.com she helps homeschool families make enjoying the arts a natural and easy part of family life. Erica enjoys encouraging mothers to love their children with great passion and reckless abandon! LEARN MORE
ASHLEY WIGGERS - HOMESCHOOLING TODAY MAGAZINE & GEOGRAPHY MATTERS
Ashley Wiggers grew up in the early days of the homeschooling movement. She was taught by her late mother, Debbie Strayer, who was an educator, speaker and the author of numerous homeschooling materials. It was through Debbie's encouragement and love that Ashley learned the value of being homeschooled. Currently, Ashley is the Editor-in-Chief of Homeschooling Today magazine, Public Relations Director for Geography Matters and the author of the Profiles from History series. Ashley makes her home in Somerset, KY, with her loving husband and two boys. LEARN MORE
CORI DEAN - MAPLE TREE PUBLICATIONS
Cori Dean is an author and speaker as well as the owner of Maple Tree Publications. Her recent adventures include backpack camping on a bike and travelling the Trent-Severn Waterway entirely by boat. When she isn't adventuring or meeting other homeschoolers, she loves time in the garden or reading a good book. She and her husband, Mark, have homeschooled their four daughters for 16 years and are in full-time ministry with Youth for Christ at the Shop Vehicle Donation Program in Ontario, Canada. LEARN MORE
KATHIE MORRISEY - THE CHARACTER CORNER
Kathie Morrissey is the mother of 8, wife to Alan for 40 years, and committed homeschooling mom of 31 years. She is the founder of The Character Corner, where she blogs about parenting, family life, homeschooling, and life in general. Kathie is a popular speaker at home school conventions, support groups, and ladies retreats. She is the author of two popular character curriculums, and several books written to encourage Biblical parenting. LEARN MORE
TARA WOHLFORD - MINIVAN MINISTRIES
Tara Wohlford is a homeschool mom who lives in Nashville, TN with her family of 5. Having always had a passion for children and learning, she earned a B.A. in Elementary Education and an M.A. as a Reading Specialist. After spending ten years in the public school classroom, she worked in children's ministry for two years, then began her adventure with homeschooling and teaching ESL online. Visit Tara at MinivanMinistries.com, where she blogs about homeschooling and making Jesus the driving force in your family. LEARN MORE
CHARLENE NOTGRASS - NOTGRASS HISTORY
Charlene is a Christian and a veteran homeschooling mom. Charlene received a bachelor's in urban planning from Middle Tennessee State University. She oversees curriculum development at Notgrass and is a lead curriculum author. Charlene loves to encourage homeschooling mothers, whether speaking at homeschool conferences, counseling mothers individually, or through her blog, Daily Encouragement for Homeschooling Mothers. Charlene enjoys reading, quilting, drawing, sewing, improving their old house, and spending time with Ray, her husband since 1974, and their children and grandchildren. LEARN MORE
LEE FELIX - LIKE MINDED MUSINGS
Lee Felix of Like Minded Musings is a Faith Blogger, Virtual Assistant and Lifetime Encourager. Her heart is to encourage and equip Christian women to embrace the imperfect and grow in Christ! She is a Wife of 20 yrs, Mama to 5, Imperfect Jesus Follower, Unexpected Homeschooler, Avoider of Small Talk and a Coffee Fanatic. Join Lee in the journey through imperfect yet intentional parenting in her Private Imperfect Moms Facebook Community, get access to her FREEBIES Hub of Biblical Resources or connect on Social Media! LEARN MORE