Book Club For Kids: The Secret of The Hidden Scrolls Book 1: The Beginning
Get ready to find out The Secret of The Hidden Scrolls!
A Time-Traveling Adventure Series Helping Children Discover the Bible and Grow in Faith
Join Peter, Mary, and their dog Hank as they discover ancient scrolls and travel  back in time to stories in the Bible. They find a world filled with wonder, adventure, and danger. They must search for clues to solve the secret of the scrolls ... or they will be stuck there forever.
The series contains a rich cast of supporting characters, including Great-Uncle Solomon, the eccentric archaeologist who discovered the scrolls, and the angel Michael, who guides the children on their quests. 
Perfect for emerging readers, homeschooling families, and lovers of adventure, The Secret of the Hidden Scrolls brings beloved Bible stories to adventurous life.
Join us live on Zoom https://zoom.us/j/377620183
Thursday August 15 and August 29 at 1 PM Pacific Time / 4 PM Eastern Time
I highly recommend you sign up to Scribd and have access to thousands of books and audiobooks for only $8.99/month. The first 30 days are FREE! This is my referral link -> https://www.scribd.com/g/yqi4w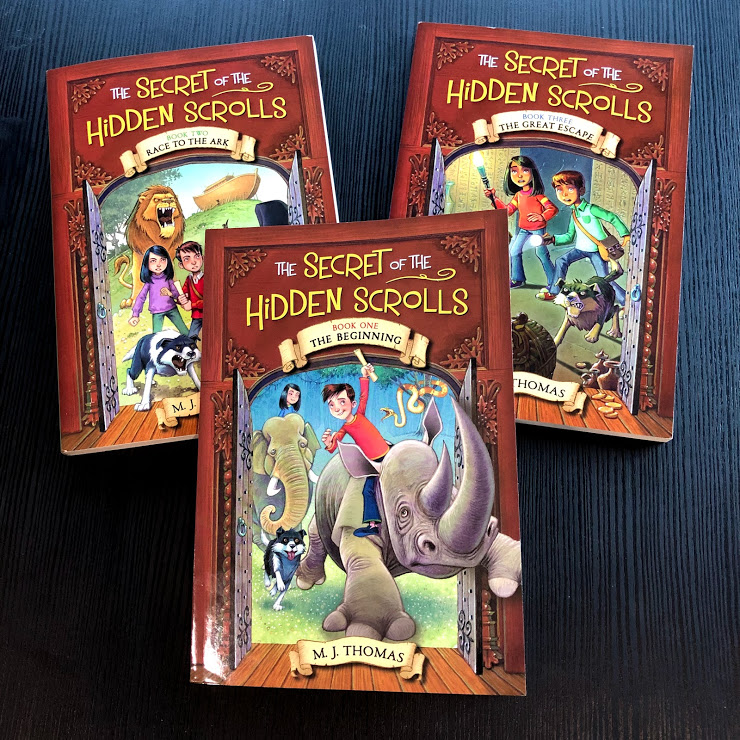 Book 1: The Beginning
In the first title in the series, The Beginning, Peter, Mary, and Hank stumble across ancient scrolls and find themselves witnessing the creation of the world. Can they decode the scroll's message before they get trapped in history forever? Children will root for the trio as they ride rhinos, meet the angel Michael, and talk to a certain snake in the Garden of Eden.
READ A SAMPLE OF THE BEGINNING
Book 2: Race to the Ark
In Race to the Ark, Peter, Mary, and their faithful dog, Hank, travel back to the time of Noah. With only seven days to solve the riddle of the scroll and escape the impending flood, the trio must race to help Noah and his family finish the ark. Along the way, Peter and Mary evade a group of young troublemakers and come face-to-face with a mysterious man known as the Dark Ruler.
READ A SAMPLE OF RACE TO THE ARK
Book 3: The Great Escape
In The Great Escape, Peter, Mary, and Hank journey to the pyramid-studded desert of ancient Egypt. When the trio befriends Pharaoh's daughter, they witness first-hand as Moses petitions Pharaoh for the Israelites' freedom. Plagues wreak havoc as the group races to solve the scroll, gets chased by a panther, and battles Pharaoh's cunning advisor, the Great Magician.
READ A SAMPLE OF THE GREAT ESCAPE
You will find these 3 first books of the series available in audio on Scribd.
Should We Have The Kids & Teen's Book Clubs Weekly?